Here's why choosing the safest cookware is so important.
When it comes to choosing food, you really are what you eat. What goes into your body influences your health, and the cookware you choose plays a role in the relationship between food and health.
To illustrate, imagine dropping a buttered slice of bread onto a carpet (landing butter-side down, naturally). If you simply picked up the bread and ate it, you'd consume any material stuck to the bread, and the situation is similar with cookware.
Cooking is an interaction between the material used to create a piece of cookware and the food you put into it. So, choosing the safest cookware for your health is an important choice, because not all cookware is created equal:
Non-stick cookware coated with PTFE (aka Teflon) can release fumes that are an irritant for humans and can be fatal for pet birds. PTFE can also flake off at high temperatures.
Aluminum cookware (if uncoated) can leach into food, specially with acidic foods like tomato.
Unlined copper cookware can equally leach metal into food in levels that can be unsafe for consumption.
Seems like there's no perfect option when it comes to choosing the right pans for your home.
So the question remains, what's the safest cookware for your health?
We've done the research and made it easy to choose by highlighting the pros and cons of each type of cookware below—and featuring the best selection in each type.
Top 5 safest and healthiest cookware choices:
Safest Cookware Option 1: 100% Ceramic
What is it?
Ceramic is non-metallic, inorganic material like clay, baked at high temperature to produce a hard, corrosion-resistant material. After glazing, ceramics are baked again to create material that's impervious to water and has a surface considered one of the safest cookware options for food contact.
Pros


Free of any metals that can leach into food.


Made without PTFE, perfluorooctanoic acid (PFOA, linked to increased risk of cancer), and other chemical nastiness used on non-stick cookware.


Glazing is naturally non-stick, easy to clean, and baked on, meaning no risk of flaking, scratching, or peeling off. (And it looks pretty sharp!)


Safe for microwaves and completely recyclable.


Non-reactive with acidic food, which protects the flavor and wholesomeness of food.


Can withstand high temperatures, making it ideal for slow cooking and oven use.


Molded handles mean no handle rivets or screws to loosen over time.


Cons


Can be pricey compared to more conventional metal cookware.


They're hot! You'll need potholders or oven mitts to handle them, and handles remain hot to the touch for a while after cooking.


Can crack or shatter when exposed to sudden temperature changes, like placing a hot ceramic pan into cool wash water. Can also crack or shatter if dropped on a hard surface or hit with heavy force.


Best Choice for 100% Ceramic Cookware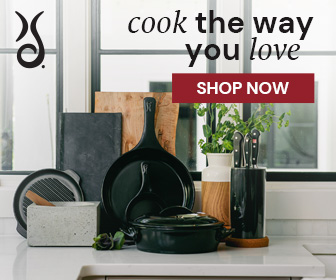 Xtrema is 100% pure ceramic cookware, with no PTFE, PFOA, glues, polymers, coatings, dyes, or other chemicals that can pose health risks. Xtrema cookware is also FDA approved and meets California Prop 65 standards, certifying that it is free of more than 900 chemicals that can cause cancer, birth defects, or reproductive harm.
This means that Xtrema cookware contain no metals that can leach into food to change its flavor and health profile. And talk about transparency, not only is every shipment inspected and tested for any heavy metals, you can even request a copy of the latest report from them.
Xtrema cookware is also eco-friendly, as it is made from renewable materials using earth-friendly manufacturing methods. It's safe for stovetops, ovens, microwaves, and BBQ grills. Yes, it does require extra care as it can be fragile, but if you're up for that, we at the Cookware Advisor think it is the safest cookware around.
Safest Cookware Option 2: Ceramic-Coated Cookware
What is it?
Ceramic-coated cookware is metallic cookware (commonly aluminum or stainless steel) coated with a ceramic non-stick coating. This is in sharp contrast to regular non-stick cookware which is typically some form of PTFE (aka Teflon type plastic non-stick coating).
Ceramic non-stick coatings are typically made from inorganic minerals, primarily silicon and oxygen and applied to the metal using the wet chemical technique called sol-gel technology (the most common technique for ceramic-coated cookware). The ceramic coating can contain binders, color pigments, and reinforcing agents.
Pros


Coatings are free of PTFE, PFOA, and other chemicals used on non-stick cookware.


Coatings are non-stick, resistant to scratches and abrasion, and can withstand higher temperatures compared to chemical-based non-stick coatings.


Non-reactive to acidic foods.


Only requires a little butter or oil for cooking, which reduces fat consumption (no fat phobia here, just a feature if it is a priority for you).


Even heat transfer, meaning less power consumption to cook food.


Lightweight and easy to clean.


Available in a wide range of great colors.


Cons


Can be expensive and heat distribution can be uneven.


Hybrid ceramic coatings generally contain some PTFE to give coatings more flexibility and durability.


Vulnerable to cracking and chipping (particularly from metal utensils or due to sudden change in temperature e.g. from hot to cold).


Non-stick life of a ceramic coated pan is generally much shorter than an equivalent PTFE coated pan - by some accounts 6 times less.


Generally, not recommended for use under a broiler or in dishwashers since detergents can wear out non-stick surfaces.


Best choices for Ceramic-Coated Cookware
Option 1
Ceramic coated aluminum cookware: Caraway Cookware
Ethical and non-toxic are hallmark words of Caraway ceramic-coated cookware.
Caraway is nonstick cookware that is made of heavy gauge aluminum and a mineral-based, non-toxic coating free of lead, cadmium, and PTFE. Caraway's non-stick surface requires less butter or oil for cooking, makes cleanup a snap, and Caraway's choice of colors easily dress up any kitchen.
It's also the most environmentally friendly company I've come across. The manufacturing of Caraway cookware releases up to 60% less carbon dioxide (CO2) into the atmosphere, and cookware is shipped in recycled cardboard (with no plastic bags) using low-impact print dyes and 100% biodegradable cork trivets. Read our full review here.
Option 2
Ceramic coated stainless steel cookware: GreenPan cookware
GreenPan is considered the first cookware brand to offer ceramic coated non-stick coated pans as an alternative to teflon. They have a wide range of products, from saucepans to woks, made of either hard anodized aluminum or tri-ply stainless steel. The non-stick coating is Thermolon, a ceramic non-stick coating containing no PTFE, PFOA, lead or cadmium.
Resistant to scratches, GreenPan cookware heats quickly and evenly on any stovetop and resists deformation using Magneto induction technology, an energy-saving induction base of locked-in ferromagnetic particles for even oil or butter distribution and reliable cooking results.
GreenPan's non-stick surface means food releases quickly and easily, and cleanup is easy. (No scrubbing required!) All you do is simply wipe your pan clean with a soft cloth and soapy water.
This is another green conscious company (hence the name 'GreenPan'!). They use upcycled stainless steel and aluminum whenever possible and like Caraway, release up to 60% less CO2 into the atmosphere during manufacturing. For this reason, they have earned numerous ISO certificates for quality management and environmentally friendly practices.
Safest Cookware Option 3: Stainless Steel Cookware
What is it?
Stainless steel is a generic term for a variety of different steels called alloys—metals made by combining two or more metallic elements to give metal greater strength and resistance against corrosion.
Mainly made of iron and carbon, stainless steel gets its stainless reputation from the addition of chromium, which protects steel from corrosion by forming a protective layer of chromium oxide. For food contact, NSF International certification requires all food-grade stainless steel to contain a minimum of 16% chromium. Other elements like nickel, nitrogen, manganese, titanium, and molybdenum are often added in various amounts to add strength and corrosion resistance.
How do you know what you're getting?
Under NSF standards, stainless steel used for food equipment must be of a type in the AISI 200, 300, or 400 series.
Here's what that means:
Manufacturers replace nickel with manganese, making it cheap to purchase. Yet 200 series stainless steel is not high quality, making it prone to corrosion and unsuitable for induction stovetops.
The most common stainless steel used in cookware, the 300 series includes the two most popular categories: 304 and 316:
The 304 series uses 18/10 and 18/8 stainless steel. The first number indicates the percentage of chromium (18%) and the second indicates the amount of nickel (10% and 8%). The 304 series stainless steel is non-magnetic and non-reactive.
The 316 series (less common) is a higher-end version of stainless steel with a small percentage of molybdenum, making it more resistant to corrosion but more expensive.
In everyday performance, there's not much difference between the two.
Used mainly for flatware, mixing bowls, and cheap crockpots, 400 series stainless steel contains 18% chromium and 0% nickel. The 400 series is magnetic but not as resistant to corrosion as the 300 series and loses its shine over time.
Overall, stainless steel is not a great heat conductor. To improve conduction, stainless steel cookware commonly has a core of aluminum or copper (typically a disc on the bottom of the pan).
Pros


Generally inexpensive and easy to clean.


Strong and long-lasting, with a clean, polished appearance that fits any décor.


High resistance to acidic foods.


Resists scratches and safe for metal utensils.


Low maintenance and lightweight for easy handling.


Withstands high temperatures with few issues.


100% recyclable.


Generally considered one of the safest cookware material around


Cons


Stainless steel is not non-stick cookware. So, cooking generally requires more oil or butter than amounts required with non-stick cookware, and pre-soaking is often required when cleaning.


Heat distribution can be uneven, depending on the thickness of the aluminum or copper core.


Cookware must be made of magnetic stainless steel to work on induction cooktops.


Chromium may leach into food. Though chromium is a naturally occurring element considered an essential nutrient, allergic reactions may occur.


Small amounts of nickel may leach into food (particularly when steel has been scratched by abuse or abrasive scouring). While health agencies note that small amounts of nickel do not pose a health risk, they may trigger allergic reactions for people with nickel sensitivities.


Best Choice for Stainless Steel Cookware
My top choice for stainless steel cookware is Made In Cookware – high quality yet affordable, 100% made in America cookware. Read my full review here.
Made In cookware is 5-ply cookware (meaning 5 layers of metal), with three layers of heavy-gauge aluminum sandwiched between inner and outer layers of stainless steel. Because of its construction, it has excellent heat conduction, retention, and distribution without hot spots. The inner layer (touching food) is 18/10 304 series stainless steel, and the outer layer (a stylish brushed-steel finish) is magnetic 403 stainless steel. This means all Made In pans can be used on induction cooktops.
Made In cookware has a well-balanced heft that's lighter and easier to control than heavier cast iron cookware, and the longer-than-normal handles (riveted on for durability) help keep handles cool when cooking.
Made In cookware is also safe to use in the oven, under broilers, as well as dishwashers (though as the Cookware Advisor, I always recommend hand-washing).
Safest Cookware Option 4: Nickel-Free Stainless Steel Cookware
What is it?
Nickel-free stainless steel (called JYH21CT) is a Japanese 21/0 steel belonging to the 400 series, with 21% chromium, 0% nickel, low carbon, low nitrogen, and no molybdenum. Called SUS443J1 under Japanese Industrial Standards, nickel-free stainless steel can contain small amounts of titanium or copper to improve corrosion resistance and heat conduction, and is considered environmentally friendly.
It's a well known fact that regular stainless steel cookware does leech small amounts of nickel and chromium in food. For most of us, the small amount of nickel that leaches is not a problem. However it is an issue for those who have a nickel allergy (an estimated 15-20% of the population). For this reason, nickel-free stainless steel cookware has gained a lot of popularity as a viable nickel free cookware option. (For more nickel-free and safest cookware options, read my article on 7 Best Nickel Free Cookware Options.)
Pros


Obviously a good choice if you have nickel allergies.


Provides the same corrosion resistance as 304 stainless steel.


Lightweight and easy to handle.


Conducts heat well to save energy when cooking and withstands high temperatures.


Good magnetic permeability, making it suitable for induction cooktops.


Strong and long-lasting, with a polished appearance to make any kitchen shine.


Generally inexpensive and easy to clean, and high resistance to acidic foods.


Cons


Like stainless steel in general, nickel-free cookware involves a learning curve to avoid food sticking to pans.


Best Choice for Nickel-Free Stainless Steel Cookware
Homi Chef Nickel Free Stainless Steel Cookware
Homi Chef is 3-ply stainless steel cookware with a layer of pure aluminum wrapped within inner and outer layers of nickel-free 21/0 stainless steel. Because of its thick 3-ply construction, these pans provide even heat conduction and distribution without hot spots. This means food is less likely to stick and/or burn.
The handles have an ergonomic design and stay cool when cooking and provide a comfortable and controlled grip. Homi Chef also offers see-through tempered glass lids to easily monitor cooking for optimal results. This cookware is safe for dishwashers and ovens and can be used on all cooktops including electric, gas, and induction.
Safest Cookware Option 5: Cast Iron Cookware
What is it?
Cast iron is an alloy—iron melted in a foundry, mixed with steel, carbon, and other elements, and poured into sand molds to create fry pans, Dutch ovens, griddles, saucepans, and more.
In its raw state, cast iron is highly prone to corrosion. To prevent this, cast iron requires seasoning—oil or fat baked into the metal. Some cast iron cookware, e.g. Le Creuset, comes with porcelain enamel (often colored) to prevent corrosion and does not need seasoning.
Cast iron is reactive (especially from acidic foods) and can leach iron into food. In small amounts, iron (an essential mineral) is actually good for health, and in fact, in developing countries, it's often recommended as an intervention to reduce iron deficiency.
But cast iron leaches metal, is it safe?
Now you might be worried about too much iron leaching into food from a cast iron pan and questioning if that is safe, so let's address that question.
In significant amounts, iron can cause stomach pain, nausea, and other gastrointestinal issues. The amount of iron leached into food depends on a wide range of variables, including food type, how long food is cooked, and water content. However, the amount of iron that leaches into food also depends on how well cast iron has been seasoned. While unseasoned cast iron cookware has been shown to significantly leach iron into food, recent studies by America's Test Kitchen show that seasoned cast iron cookware will not leach any appreciable amount.
Conclusion: yes, cast iron is largely a safe cookware option.
Pros


Adds dietary iron.


No chemical-based coating to leach PTFE, PFOA or other chemicals into food.


Virtually unbreakable, tolerates steel utensils, and can last so long that cast iron cookware is often passed down from generations.


Usually cast as a single piece of metal, meaning no handle rivets to come loose.


Provides non-stick cooking (and easy clean-up) for many foods when properly seasoned.


Excellent heat retention, making it well-suited for long-cooking dishes like stews.


Can withstand very high temperatures, making it perfect for searing, frying, and campfire cooking, as well as use on electric, induction, and gas stovetops, and in ovens.


Cons


Can be pricey.


Enameled cast iron can chip if dropped, overheated, or cold water is added to a pan.


High maintenance due to ongoing need for seasoning.


Improperly seasoned cookware easily causes many foods to stick.


A bit high maintenance as the cookware will need to be reseasoned time and again.


Heavy to manoeuvre and handles can become hot enough to burn skin.


Slow to heat, can heat unevenly, and high heat capacity means food can continue to cook after a heating element has been turned off.


Not for dishwashers and scouring and/or washing can easily damage seasoning.


Best Choice for Cast Iron Cookware
Lodge cookware has been creating cast iron pieces for over 120 years and really stands behind their products.
Their products are heirloom quality, meaning they will most likely outlast you and get passed on! For the price it is offered at, that's an unbeatable advantage. Lodge describes their cookware as 'brutally tough for decades of cooking'.
In 2002, Lodge also introduced their seasoned cast iron line where they bake soybean oil into the cookware at high temperature to create an easy-release, ready-to-use surface.
Lodge also offers enameled cookware, cast iron and glass lids, unique cooking accessories like seasoned cast iron grill presses and panini presses, and silicon and leather pan holders to protect hands from burns.
Lodge's use of recycled steel in its cookware is just part of its award-winning environmental initiatives. As a zero hazardous waste foundry, Lodge uses biodegradable, recyclable packing materials, reuses sand molds, uses equipment that minimizes energy consumption, and feeds clean wastewater into ponds that support fish, plants, and wildlife.
Which cookware is right for you?
So, which is the safest cookware? We've shortlisted the 5 safest cookware brands (100% ceramic, ceramic-coated aluminum/stainless steel, stainless steel, nickel-free stainless steel and cast iron) and the best recommended options in each category.
But the choices can still seem overwhelming. Here are seven basic considerations to guide you in choosing the safest cookware set for your health:
Budget: Buy the best cookware you can afford. You're going to be using it for years. E.g. So if it's stainless steel, choose the best quality you can get.
Material: Invest in material that conducts heat well, distributes heat evenly, and is non-reactive or minimally reactive with food.
Your Cooking Personality: Are you someone who enjoys gourmet cooking or needs to put meals together quickly? Your choice in the safest cookware should match your cooking needs. Stainless steel and cast iron is great if you are a more gourmet chef. Ceramic coated cookware would be more suitable if you are more convenience minded.
The Foods You Make: Do you make lots of stir fry dishes? Stainless steel may be your best choice. Do you do a lot of searing? Cast iron may be for you. There's no perfect pan to cover all the food you make, but you can shortlist what will cover you most of the time.
How Many People You Cook For: If you cook for a large family, you may need a full range of cookware. If you cook for yourself or a few people, a few basics may cover most of your bases.
The Stove You Use: Cookware of any material is suitable for electric, gas, or ceramic cooktops. Yet only some material is suitable for induction cooktops.
Things to Avoid: Stainless steel with no aluminum or copper core to conduct heat, aluminum that hasn't been anodized or coated, and cheap non-stick pans with coatings that flake off.
Above all, don't feel pressured into buying a cookware set that offers more pieces than you may use. The best and safest cookware set for you may be pieces put together individually to create a cookware set that perfectly suits your needs, lifestyle and health goals.